Where to learn BPM in the University?
By: Pedro Robledo, BPM process management expert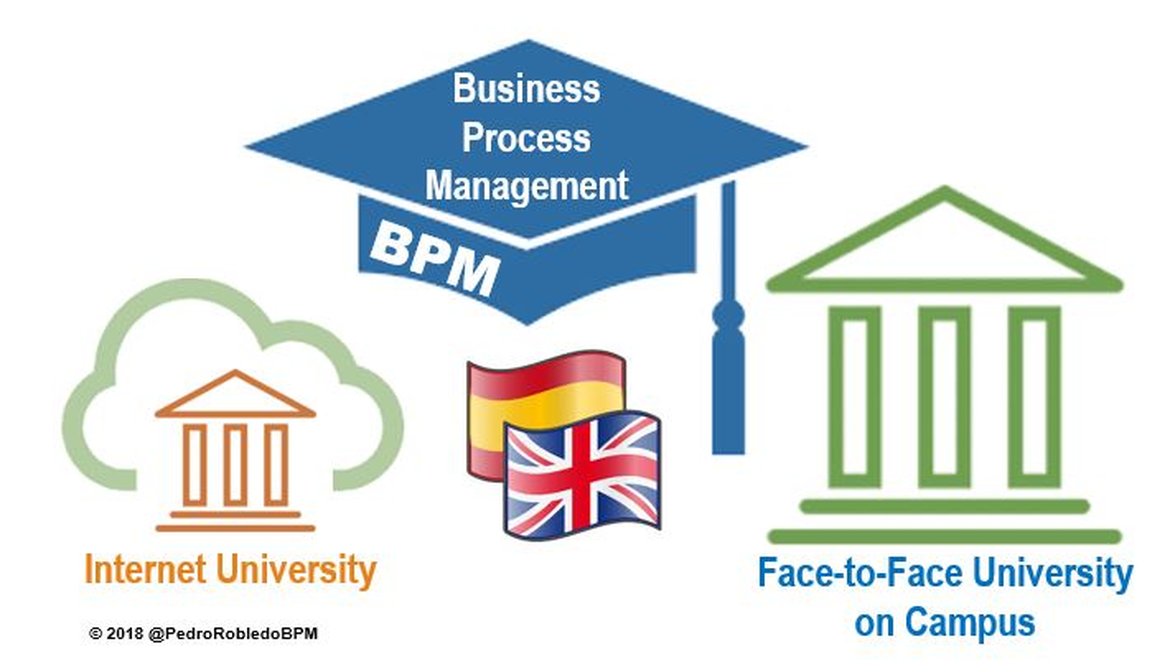 More than 66% of the positions demanded in Business Process Management (BPM) are not currently being covered and the BPM market grows at a rate of 18% [Robledo, 2018].  Companies need to address a review, management and optimization of their business processes to respond to the necessary Digital Transformation. The digital disruption in all sectors requires the BPM discipline to address the process management of any organization that wants to survive in the digital era. Therefore, there is a real need for training in BPM.
In the research "The Forrester Wave: BPM Training and Certification Programs, Q2 2012" [Forrester, 12], Forrester stressed that when a professional seeks training and certification in BPM, he finds different offers that cover specific areas or are focused on training of vendors, so they do not ensure that a complete training program is selected. The study compared seven organizations, among which there were only two universities and five private organizations. For its part, Process Excellence Network (PEX), in the article "8 Business Process Management (BPM) training providers", which wonders about which training provider to select, indicates that  "the options can be a little overwhelming and it's crucial that you select a program that gives you a good grounding in the skills you need to run BPM projects." [PEX, 2018]. PEX focuses its selection on eight recognized organizations in the sector, highlighting that "Universities could be a good option for those looking for a more intensive program in Business Process Management.".
The universities are providing BPM training for a few years, due to the current demand for certified training in this discipline and the possibility of employment for the student. The training provided is very varied from certain courses or seminars (included in undergraduate training), specific expert courses on BPM, master's degrees with own or regulated degree, and some doctorate in BPM exceptionally. Although PEX indicates that "the risk with university programs is that they might be more academic than the average process professional requires" [PEX,2018], the reality is that the regulated university education through a careful theoretical and practical training covers all the skills that a professional BPM needs. Given that Business Process Management is a field with a great professional output, investment in university training will have an important return for the student.
In order to know the current offer, a list of universities that offer BPM studies in the world, ordered by type of online or face-to-face degree: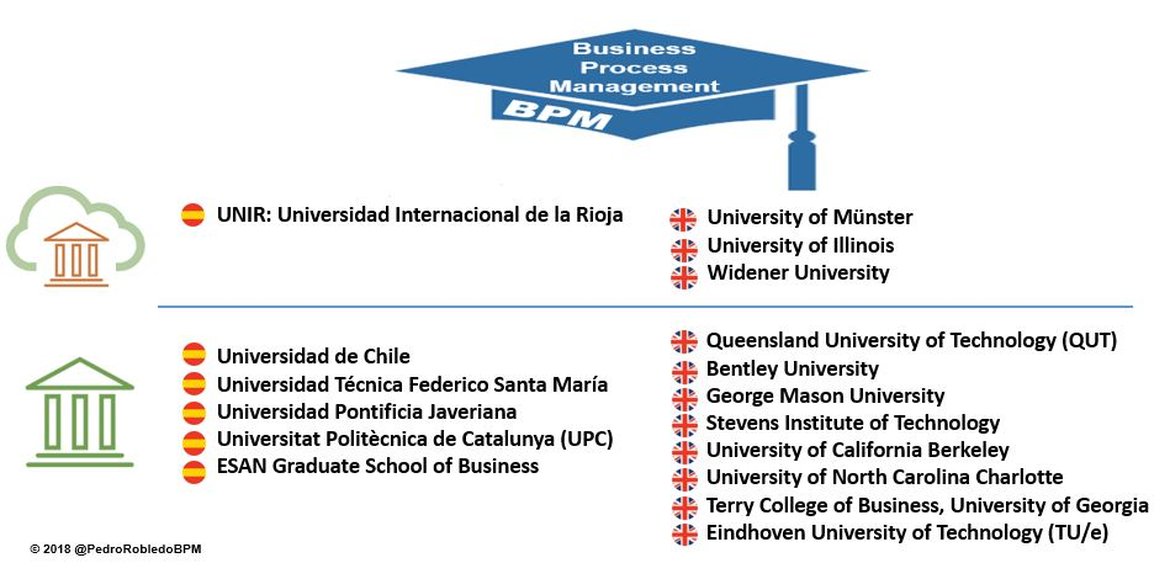 Figure 1. List of Universities with BPM training offer
ONLINE UNIVERSITY TRAINING
Germany and Liechtenstein
(INGLES) University of Münster (Westfälische Wilhelms-Universität) in cooperation with the University of Liechtenstein, offers the Executive Certificate in Business Process Management (ECBPM). Certified expert, which is aimed at management specialists who wish to increase their BPM skills and enable them to better understand and manage situations and tasks related to BPM. The program of study is designed for managers who face the challenges of business process management and the needs to increase efficiency and foster innovations.
1 Year * 60 ECTS (European Credit Transfer and Accumulation System)  
* Start: February
* Price 12.500 € (Euros)
Spain and Latin America.
(SPANISH) UNIR: Universidad Internacional de la Rioja, based in Spain, Mexico, Colombia, Peru, Ecuador, offers the Master in Business Process Management (BPM) for Digital Transformation, which covers the entire BPM life cycle, focusing not only on the Business part, but with an extensive scope in the BPM Technology part and its key role in the Digital Transformation of an organization. One-year university master's degree, with 100% online teaching and in Spanish. Through the use of different solutions of BPM technologies from leading manufacturers and a leading expert in the sector, the student is practiced with practical activities to develop any professional responsibility within the life cycle of a BPM project. It obliges the student to do a business internship and a Master's thesis to address a process design and implementation project in a BPM engine. He is also the only one focused on acquiring all the skills to be prepared for the two most extended professional BPM certifications: CBPP Certified Business Process Professional, from ABPMP and OCEB OMG Certified Expert in BPM, from OMG .
1 Year * 15 ECTS (European Credit Transfer and Accumulation System) * Start: November and March * Price: ask
 USA.
(ENGLISH)  University of Illinois, based in Illinois, USA, offers the Graduate Certificate in Business Process Management both online and on campus. It provides information systems professionals and business professionals with the fundamental knowledge necessary to analyze, define and successfully design the organization's processes and effectively apply information technology to these processes.  
9 hours    
(INGLÉS) Widener University, based in Philadelphia, USA, offers the MBA Concentration in Business Process Management This training explores the strategy, structure, culture, government, people, information technology and data as essential and interactive elements of business process innovation. It offers three BPM courses: Modeling to Monitoring, Business Process Strategy and Innovation and Knowledge Management and Social BPM. Prepares students for the Certified Business Process Professional certification from the Association of Business Process Management Professionals (ABPMP). This concentration is perfect for students interested in a challenging career in the analysis of business processes or in the management of quality assurance.
UNIVERSITY TRAINING ON CAMPUS (FACE-TO-FACE)
Australia
(INGLES) Queensland University of Technology (QUT), based in Brisbane, Australia, offers Master of Business Process Management  a year and a half of face-to-face duration, which prepares students to undertake projects that require the application of theoretical and technical knowledge in the development of BPM-related artifacts, resolves novel and complex problems that cover the relevant contemporary BPM and the necessary interpersonal skills so that can occupy higher professional positions. Has a PhD in BPM.
1 Year and a half (or 3 Years partial time) * 96 credits * Start: February and July * Cost $ 31,500 Australian dollars.
Chile
(SPANISH) Universidad de Chile , based in Santiago, Chile , offers the   Master in Business Engineering (MBE). It offers a program that includes compulsory training oriented to processes: Model Design Course and Business Processes with IT (10 UD) that offers a theoretical / conceptual methodology to face the design and modeling of a business and its processes, which is applied to the student's company; Course in Architecture Design and Construction of a Business with IT Support (10 UD) that continues with the presentation of the methodology for business design, focusing on the design and construction of software components that support the architecture and business processes designed in the previous course; and, the Degree Project (40 UD) that concludes and implements the process and application designs developed in the courses of the previous semesters.
2 Years * Beginning: March and July * Cost: The full program fee is 450 U.F. (Referential value 1 U.F. = $ 26,053 Chilean peso), plus the payment of basic rights (Tuition)
(SPANISH) Universidad Técnica Federico Santa María, based in Vitacura, Santiago, Chile, offers the Diploma en Gestión por Procesos y TI This program is aimed at training specialists in Business Process Management and the Information Technologies that support them. Introduces the fundamental concepts and implementation of the BPM discipline, taking as a guide the book by Professor Bernhard Hitpass, with the aim of applying everything learned. The curriculum of the diploma covers completely the Management, from strategic alignment, business models, process architecture, business process design, process optimization, implementation in modern workflow environments, to the formulation of indicators and the monitoring in lines of the execution of the integrated processes.
6 months * Start: May * Cost: Application: 1 UF (non-refundable) Value Diploma: 100 UF (Reference value 1 U.F. = $ 26,053 Chilean peso)
Colombia
(SPANISH) Universidad Pontificia Javeriana, based in Bogota, Colombia, offers the Diplomado en BPM. Training that provides knowledge of BPM as a management discipline, process modeling, process analysis and redesign, process automation with BPMS, process measurement and control, integration of BPM with information technologies, and BPM project management.
100 hours * Cost: $ 3,490,000 Colombian Pesos
 Perú
(SPANISH) ESAN Graduate School of Business based in Perú: offers the Diploma Gestión de Calidad y Procesos It provides the executive with solid training through courses, practical workshops, and discussions on the design and innovation of processes. The participant will be able to identify new opportunities and make sound decisions for the implementation of process management in their organization. In addition, a critical analysis of the process approach and associated opportunities will be developed, providing the executive with a broad practical knowledge in the field of business processes. 
6 months
Spain
(SPANISH) Universitat Politècnica de Catalunya (UPC), based in Barcelona, Spain, offers the continuous training course Business Process Management (BPM) . It is a course that offers an introductory view of the concepts surrounding the concept of BPM, the methodologies for implementing BPM solutions, and real business cases.
78 teaching hours * 9 ECTS * Cost: € 1700 (Euros)
The Netherlands
(ENGLISH)  Eindhoven University of Technology (TU/e) based in
Eindhoven, The Netherlands, offers the BPM Research Cluster    with the mission of being one of the leading research groups in the world that deals with the analysis, design, execution and improvement of business operating processes. The main research topics of this group are: process modeling, workflow management, BPR, discrete event simulation, process mining and reference models. The research carried out in the BPM group is carried out in the Information Systems Group of the School of Industrial Engineering of the Eindhoven University of Technology. Offers different specific courses on BPM.
http://is.ieis.tue.nl/?page_id=427
http://is.ieis.tue.nl/research/bpmNew/
USA
(ENGLISH)  Bentley University, based in Waltham, MA, USA, offers the MInor In Information and Process Management It offers a vision of the competences and contents related to three areas of study: Process Management, Information Management and Business Systems.  
 (ENGLISH)  George Mason University, based in Virginia, USA, offeres the Business Process Management Certificate Program . Certificate compatible with the Association of Business Process Management Professionals' (ABPMP) Comprehensive Body of Knowledge. Through three classroom modules, it provides the tools and techniques needed to transform operations to reduce costs, reduce service and / or cycle times, increase capacity and provide a better customer experience. This program also includes three optional online learning modules that provide traditional knowledge of process improvement (Lean, Six Sigma) and state-of-the-art BPM techniques.
18 months
(INGLÉS) Stevens Institute of Technology, con sede en Hoboken, New Jersey, USA, ofrece  Graduate Certi­cate in Business Process Management and Service Innovation   Ofrece un Máster en Sistemas de Información con foco en BPM e Innovación, además de cuatro cursos en BPM. El programa está enfocado en Gestión e Innovación de Procesos (análisis y reingeniería de procesos), Implementación BPM y Workflow (BPMS, simulación y analítica), Gestión de la cadena de suministro (Gestión procesos B2B) e Innovación (estrategia de procesos).  
http://www.cebpi.org/learn/graduate-bpm-courses/
(INGLÉS)  University of California Berkeley, based in California, USA, offers the Professional Program in Business Process Management. Training focused on how to optimize business processes combining traditional theories and practices of IT and business. Study strategies to use technology more efficiently to support business objectives. It makes it easy to create an IT and Management environment that can react more quickly to the changing needs of the company through a process that involves a cycle of design, modeling, execution, monitoring and optimization.
2 Years * Price: $1,850 USD (not including course materials and registration fee)
(ENGLISH)  University of North Carolina Charlotte, based in North Carolina, USA, offers the Business Process Management Certificate. It consists of five courses: Process Mapping and Analysis, Measuring and Improving Processes,  Business Process Management and the Balanced Scorecard, Process Innovation and Implementing Process Change.
https://continuinged.uncc.edu/process
Price: $5,504.00 USD  
(ENGLISH)  Terry College of Business, University of Georgia  based in  Athens, GA, USA, offers two courses: Business Process Management y Advanced Business Process Management The first one oriented to process management discipline as well as to BPMS technologies, to cover analysis, modeling and simulation of processes; BPMS implementation, the use of web services and process redesign methodologies. The second course focuses on the implementation of business processes facilitated by IT, applying four basic models that guide the development of systems based on processes: Business Process, Business Decision, Service-Oriented Architecture, and Business Data Model.
3 hours each course
https://www.terry.uga.edu/courses/MIST/5750/
https://www.terry.uga.edu/courses/MIST/5790/
Universities that deal with certain process management focused on continuous improvement with Lean, SixSigma or TOC (theory of constraints), or focused on SAP have been discarded. The conclusion of the titles and training courses on Process Management (BPM) offered by the universities worldwide, mentioned above, leads to the conclusion that there is a great variety of approaches, with different durations. Some provide training in Process Management focused on the business side, and few focus on deepening in all phases of the BPM life cycle and in all the technologies included in a BPM project. In addition, university degrees have to take into account the role that BPM plays in the digital transformations of organizations.