Industry 4.0: the bpm challenge
By Juan Emilio Alvárez, Specialist in Digital transformation and BPM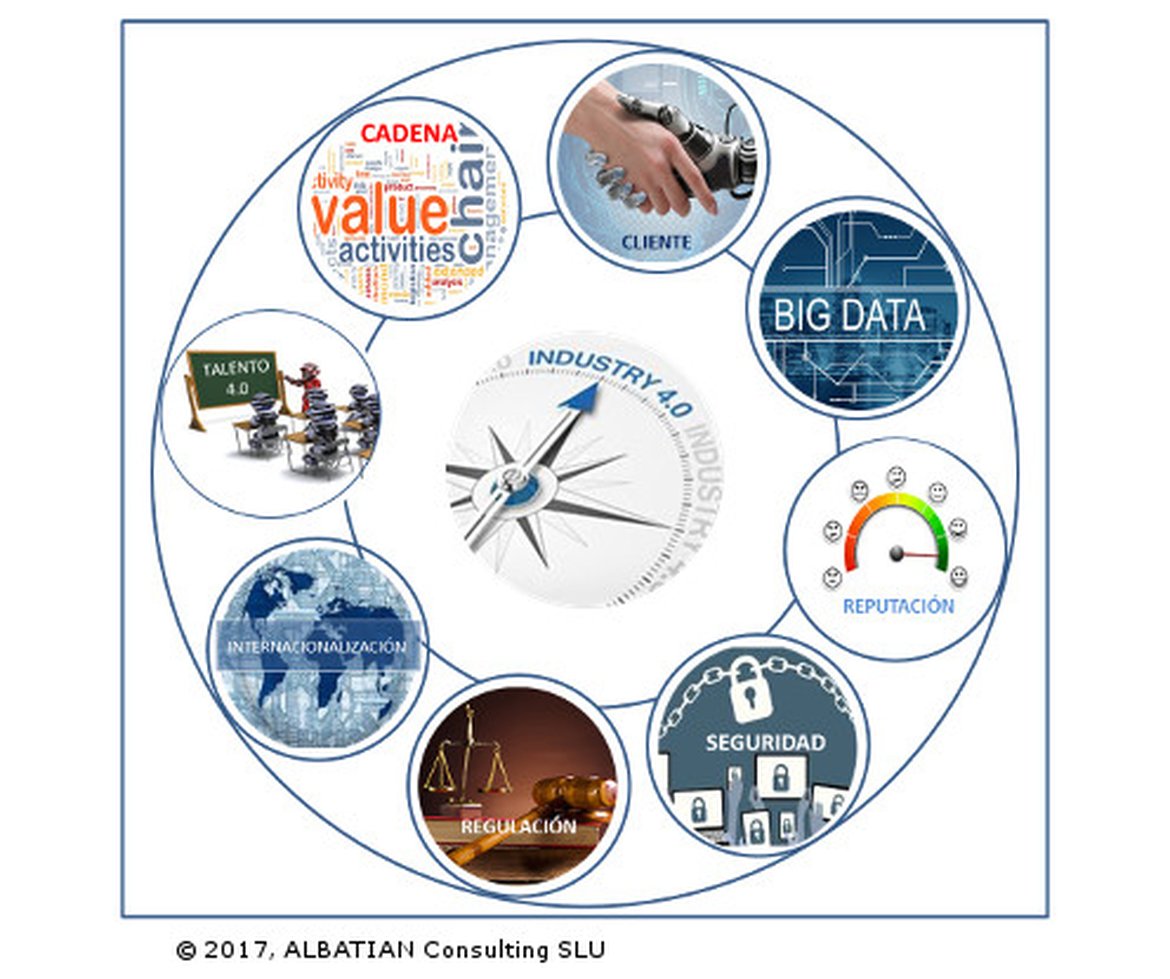 "The Industrial Revolution 4.0 and / or Digital Transformation,", is already a reality. This transformation implies a reinvention, but, unlike previous transformations, times are critical. Supply and demand vary at Vertiginous speed, and every company has to find its way to success. In this scenario, is it possible to bypass digital transformation 4.0?
The immersion in the "Digital Transformation" has to be a reality, but do not confuse Digital Transformation, with change of technology. Elements such as manufacturing and additive intelligence, robotics, artificial intelligence, are contributing around 50% increase in productivity of companies, but: "it's not enough"; The paradigm that we face is much deeper and requires current companies to establish, among other elements, a corporate culture, new business models (processes) and, based on all this, a good digital immersion fully adapted to the corporation needs; that is to say: "Digital Transformation 4.0, implies the challenge of knowing how to implement such a transformation within organizations based on a global and holistic strategy."
What are the keys to facing this transformation?
Companies are focused on challenges such as: 1) Achieve greater orientation and service to our customers, 2) Integrate new agents or service platforms in the value chain that act as hub of business, 3) Manage information as a critical element more than a simple data repository, 4) Managing reputation, 5) Managing security, 6) Managing talent (Talent 4.0), 7) Implementing regulatory transformations or legislative changes, 8) Relating internationally, etc. ..., definitely, a complete transformation of business models or, in other words, a complete transformation of supply and demand.
Companies life expectancy comes from innovation in the reconsideration of what should be the strategy and the product / service more than the low wage costs. The consumption patterns have modified a lot and very fast. It's observed that more and more is demanded "connect product and customer - Connected Technology – in almost immediate time". This connection happens to transform our product into a set of: physical elements + services. For example, one of the great Steve Jobs' contributions, founder of Apple, was not the IPhone, but the music distribution service through these devices, which contribute to achieve a great connection between product - customer.
In most cases, companies' strategies and processes are not prepared for this situation, hence the need to integrate new agents or service providers, that allow to connect the products to the customers in a faster and faster time, and with a greater added value, greater than we could offered if we had to adapt or develop them. However, this involves disadvantages as the effect of "Black Box", in which you probably lose control of how things are done, measuring only the result and sometimes losing "experience of user". As an example, we will focus on the "Insurance Sector", in which many companies are outsourcing their activity of risk or credit risk assessment to highly specialized companies. The objective of these companies is to have very advanced technical risk assessment models, but in a global way, where contextual variables, user experience, etc., typical of each insurance company or bank, are not usually taken into account. This is called the "Black Box" effect, that is, when an entry is generated, the models are applied and an output is generated. This situation involves a double paradox, on one hand, it's lost the knowledge of the reason for the response and on the other hand it can be inferred a series of erroneous assessments, which are difficult to identify, and can cause collateral damage in the perception of the final client.
This situation implies the need to manage information as a critical element and not as a simple data repository; that is to say, we have to be able to move from a "knowledge-based society to an information-based society". The transformation of the "Value Chain" cannot produce information breakdown; It's particularly relevant the data analysis, in which to establish the data quality and suitability, this is not an easy task, but nevertheless it is critical for a digital society. How many Big Data projects, Knowledge Management projects have been created?, How many of them have been unsuccessful ?, Why?. The answer is complex and the generalizations are complicated, but I dare to say that a large number of companies have launched the "Digital Transformation", thinking that current business models and processes are valid by means of changing technology and the reality is quite different. We have the knowledge of the current models, but we lack its transformation in information that allows a better understanding of the needs of the demand in order to adapt our offer in a much more effective way, therefore, we have to understand what it means to transform the "Current Knowledge" into "Information", and, for this it is essential to change first of all the business model (Value Chain) and then, in the second place, the technology. If you don't take into account these aspects, BIG DATA projects lose much of their value and condemn themselves to failure.
All these challenges, can not make us lose sight of our "Reputation". An unadapted strategy, a bad management of information, bad selection of the players that we integrate into our "Value Chain" can lead us to give hasty answers, to make wrong decisions, or even more serious: to cause leaks or loss of information that we consider irreparable, and that make the work of years, by gaining a solid position in the market, is lost in a few of minutes. Therefore, we have another challenge to solve, how do we manage the reputation in the era of Digital Transformation?. We must implement again"the Reputation" as another critical element within the Strategy and incorporate it in the day to day through the processes and operating procedures. A good transparent and reliable corporate governance, with a good conduct ethical code will help to mitigate the reputational vulnerabilities that every business entails.
"Information security", very fashionable lately because of the Cyber attacks of all known, is another of the great challenges of Digital Transformation. The management of customer information and their assets is a very critical task for any company, let's not talk about sectors such as Public Administration, Banking, Insurance, Telecommunications ... It is therefore essential to take into account all these elements when dealing with a strategy of "Digital Transformation or Industry 4.0". We have to be aware, that security can appear as a barrier to progress, since we have the concept that security can become "disabling", but in fact it is the opposite. Let's have a look at what happened recently worldwide with cyber attacks: How many companies have been forced to stop their activity?, What cost has it had, not only at the level of production, but reputacional and image, How much time and cost does it take to return to the pre-attack situation?. If we reflect how much it costs to manage security day to day, in front of the costs that would generate the "NO security", we will see that it is not justified to unprotect one of the most valuable companies assets: "Information". All "Digital Transformation" must establish strong, selective, effective and, as far as possible, efficient security mechanisms, depending on the importance of the information to be protected, and ensuring that they achieve the customer's requirements everytime.
We cannot lose sight of the impact of "regulatory transformations". Information access and security, consumer protection, supervision, establishment of responsibilities from the point of view of "who", are elements that are in the offices of Regulatory Agencies and about which we have to be very Outstanding as they are happening, how they impact our Digital Transformation strategy. As an example, vehicle manufacturers are working in the autonomous vehicle, today the analysis of the regulators is in the tables to determine and regulate who would be responsible for an accident of a vehicle of this type: a) Who is in the vehicle, (b) the vehicle software manufacturer, (c) the vehicle manufacturer. An effective digital transformation has to include among its objectives the early warning of the regulatory framework. This alert should be directed especially to understand the motivation of this framework, the impact that can have on our organization and especially on the offer, with the aim of establishing the mechanisms of anticipation that allow to reach the maximum degree of compliance in the shortest time possible. As I said at the beginning, time is critical.
What does the BPM contribute to all this?
As we have been exposing, companies have to address these great and difficult challenges, how? On one hand they must adopt holistic strategies that harbour the totality of the necessary areas for the process of "Digital transformation (strategy, processes, people And technology)". On the other hand, it is necessary to apply more an "innovative transformation than a disruptive transformation" and, finally, to apply technologies that are as adaptable as possible to the organization and make them flexible and agile enough to be able to achieve a continuous, rapid and relatively controlled costly transformation. If you don't focus on digital transformation from this holistic approach, and you think that simply applying technological changes is enough, this would lead you to a not return situation.
From this perspective, we believe that Business Process Management (BPM) solutions are the ones that could lead and respond to many of the challenges and requirements we have discussed. The reasons are clear:
The BPM, in its global and not only technological concept, allows companies to be more proactive, adaptable and agile, this allows the organizations that have adopted BPM, to be able to fulfill the challenge of reducing the times of placing in the market new products / services and new regulatory frameworks (fast to market).
BPM provides companies with intelligent processes that allow organizations to have more visibility and add value to the end user (product connected to the customer).
Developing the business with BPM, companies gain an end-to-end perspective and visibility in critical business processes (Value Chain), real time and global viewpoints, bringing together organization, people and technology (internal and external). External "), under the same axis," the process ", minimizing the impact of" Black box ".
From the organizational point of view, they establish a global form and culture, reduce cultural pathologies, optimize lack of communication. The transmission of the objectives is done through the processes (Talent Management 4.0).
"Process intelligence" completes the equation for organizations that want to enjoy "real-time information" and "global vision". Business rule management, multichannel management with friendly natural language interface, personalized assistance and automatic support, allow processes to become more intelligent. Being one of the most important factors for the companies' short and long term competitiveness, allowing them to focus on the critical and necessary information, obtaining real-time visibility of the different scenarios, generating predictive and non-reactive business
Regardless of the sector where we operate, the activities are organized in processes, and BPM solutions are presented as the best strategic, organizational and technological option to orchestrate them with Agility and Control, to integrate all the actors of the Value Chain and to achieve the "Industry 4.0".
"Digital Transformation 4.0 is a reality, it has come to stay, and the BPM is a serious candidate to respond. It is not a matter of deciding whether or not to implement a BPM solution, but how. As in all technology cycles, it is the innovative organizations that are the first to mark the trend of the market.