11/01/2017 10 years of Albatian
Dear friends, clients and collaborators,
ALBATIAN has celebrated 10 years and we want to celebrate it with all of you who really have made it possible.
It is hard to imagine that from a dream born 10 years ago, a firm that acts at an international level, in which it manages 4 business areas, has woven a network of collaborators at an international level, which allows it to have a large portfolio of clients in Europe, Central America and LATAM.
With some of you we have learned and grown up together, with others we have only recently met, but we all share the same values, a way of acting and a complicity that unites us professionally.
It has been years of intense, hard and passionate work, during which we wanted to bring to you all our energy, enthusiasm and professionalism. I consider myself fortunate to have always enjoyed your support and company. My deepest thanks to all the people, friends, collaborators, businessmen and managers, clients and suppliers, who have believed in this project and, without which, especially in difficult times, ALBATIAN would not have been able to grow and reach Achieved goals of excellence and quality. For all this, I am deeply proud of the work done and of all of you.
Life is change, and there are always surprises, so I trust in new and exciting future expectations, but above all, I hope to continue to count on your appreciation and trust.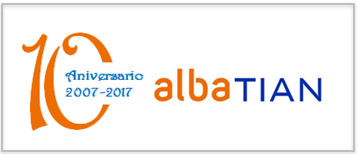 CEO